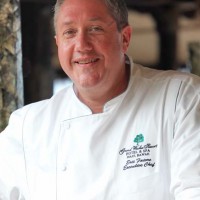 Executive Chef Eric Faivre has a new obsession: organic strawberry-papayas from Kumu Farms. Lucky for you, part of his obsession is getting everyone to delight in its deliciousness. Even luckier is Kumu Farms; with Chef Eric commandeering Grand Wailea, the largest resort on Maui with seven restaurants, he is going to need a lot of those strawberry-papayas.
Overseeing the largest, private culinary team on island with precious resources, Chef Eric embraces his responsibility as a green ambassador. He is a member of the first "Grown on Maui" committee and one of his restaurants, Humuhumunukunukuapua'a, was one of the first to support and raise funds for the "Growing Future Farmers" program.
Although the cost of local products is higher than purchasing them from the mainland, Chef Eric chooses to invest locally. Each year, he procures more than $2 million in local harvests, sustainable seafood and products from the Hawaiian Islands. He works with more than 30 local farms to get the freshest vegetables and fruits including Escobedo Farm for his tomatoes, Chinese cabbage, eggplants and bell peppers; CN Farms for his baby arugula, spinach, tatsoi and meslun; Kula Country Farms for his strawberries, corn, chard, daikon and those sweet Maui onions; and Evonuk Farms for all his herbs. Recently, Chef Eric began leasing two acres atNui Farm to grow produce just for Grand Wailea. Dubbed "Grand Wailea Harvest" the land will grow baby carrots, baby bok choy, baby romaine lettuce, cauliflowers and artichokes – five vegetables that are in demand at the resort throughout the year. Chef Eric also processes his own honey from the resort's rooftop apiary. Home to nine beehives, the apiary produces more than 10 gallons of honey each month which Chef Eric processes in his kitchen. The rooftop kiawe-white honey is incorporated in all of the restaurants' menus – from the mango granola parfait with mango, orange, banana, toasted granola and rooftop honey to the daily aioli that is served as an accompaniment with the Maui onion and taro rolls at the restaurants and many more.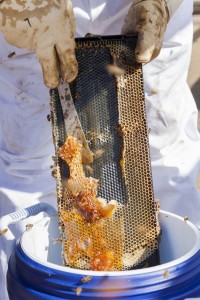 Grand Wailea is home to seven restaurants, bars and lounges includingHumuhumunukunukuapua'a, Alan Wong's Amasia, Bistro Molokini, Grand Dining Room Maui, Volcano Bar, Cafe Kula Marketplace and Botero Bar.
Born, raised and trained in France, Chef Eric completed his formal culinary training at the Ecole Hôtelière de Gerardmer. His career includes working at Michelin restaurants La Maison du Boeuf in Strasbourg and Le Cygne in Geneva, and was a guest chef at the James Beard House in 2012. He escaped to the island of Maui as the Executive Chef of Grand Wailea twelve years ago where he enjoys cooking and driving around our beautiful Island discovering new flavors to obsess.
For menus, visit www.wailearesortdining.com or call 808.875.1234 ext. 4900.