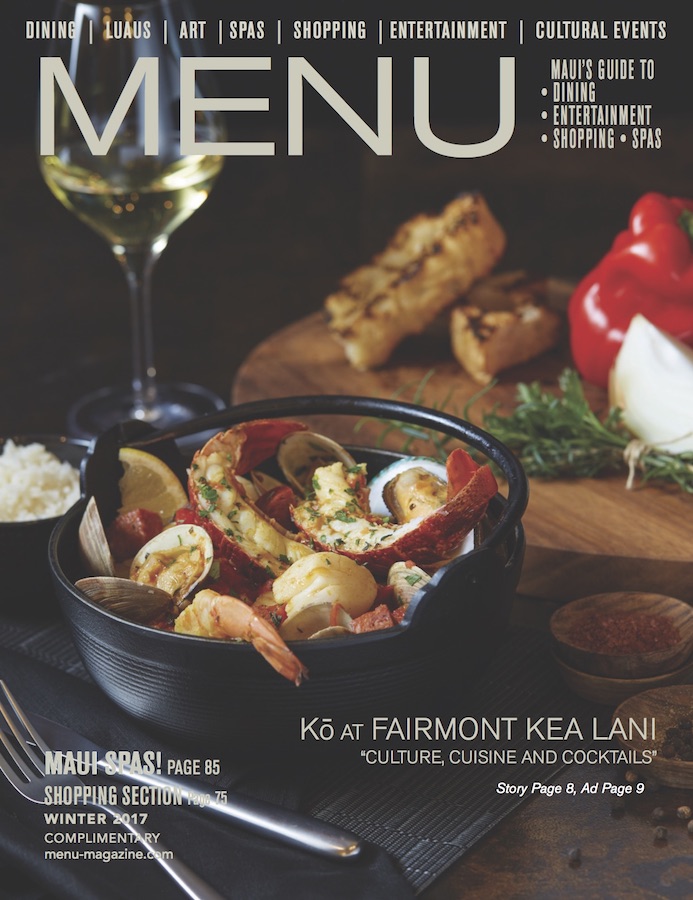 Discover the essence of Maui through one of the island's most authentic and unique culinary experiences:  Ko, the signature restaurant at Fairmont Kea Lani.
Ko is inspired by the vast collection of ethnicities brought together during Maui's sugarcane plantation era. Originating from the kitchens of Ko chefs' tutus and aunties, taste generations of local cuisine deep rooted in the island's culture and history. Step into the restaurant and you will see the architectural influences representing the elements of a sugar plantation. Peruse the award-winning menu and the tantalizing dishes, which highlight the unique flavors of Maui, will jump out at you.  
Enjoy the signature Ahi on the Rock appetizer, 'Ohana platter featuring Kobe Beef Poke or taste the Honey Lavender Macadamia Nut Shrimp and crispy Oishi Sushi. Fresh salads showcase the bounty of upcountry Maui farms including pohole ferns, hearts of palm, and more. With over 90% of fish, beef and produce sourced locally, the flavors of Ko– are as authentic as they are sustainable.  
Ko has been repeatedly recognized across the island for its unique and exceptional preparations of seafood, beef, lamb and pork, earning the restaurant the distinction of best Hawaiian Regional Cuisine, Restaurant of the Year, as well as a Lifetime Achievement Award for Executive Chef Tylun Pang.  
Embracing the culture of Maui through food and cocktails is boundless at Fairmont Kea Lani. Before dinner (or after) check out the island's avant-garde cocktail scene and Hawai'i's modern pau hana at LUANA.
In Hawai'i, the end of each day is celebrated with a 'pau hana', a social time reserved for enjoying friends and libations. Idyllically located with sensational sunset vistas at the Fairmont Kea Lani, LUANA, meaning 'to relax and be at leisure' in Hawaiian, offers a dynamic and energized atmosphere which masterfully combines the culture of cocktails, spirits, wines, brews and pupus (light fare) in one of the most gorgeous settings in Wailea.
Step up to the bar and the energy and enthusiasm of the mixologists at LUANA will inspire you to taste something new or reintroduce you to an old favorite with a new twist. Ongoing special events throughout the month highlight the bar's impressive technical approach to the modern cocktail and the boundless creativity of the LUANA mixologists.  
The LUANA Experience Series is designed to showcase the flavors and cuisine of Maui.  Partake in themed celebrations including Firkin Friday, Project Cocktail and Oh….Wine Not?, and Friday Night Films.  These popular events allow locals and visitors to discover new flavors in small batch brews, spirits, wines and more. Catch the details at fairmont.com/kealanimaui. 
As one of the top culinary destinations in the world, Maui offers two of the most distinctive epicurean experiences: Ko and LUANA.
(see ad page 9)