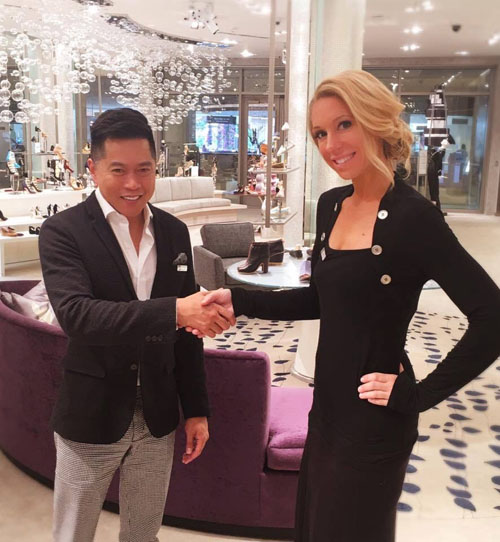 Cookie-preneur bakes it to Saks Fifth Avenue
The First Maui Company to be Carried by the Luxurious Retailer
Makawao, Hawaii:  What's the first thing you think of when you hear "Saks Fifth Avenue?"  Well now you can add cookies to that thought. Mitzi Toro, owner of The Maui Cookie Lady, has persevered to become the very first Maui company to sell to Saks Fifth Avenue with a debut at the Waikiki at International Market Place store.   
It's challenging for many small businesses, especially artisan crafters, to scale up to a big order and to adapt to the technical distribution processes and product-labeling procedures required by large retailers.
"For small businesses the economies of scale from such a large customer go beyond product development but also includes significant automation of data interchange and without IT departments, Electronic Data Interchange (EDI) implementation and testing is a high barrier to overcome" says Wayne Wong, of the Small Business Development Center, Maui Office.
Yet, after year-long discussions and many layers of meetings, The Maui Cookie Lady has landed a floor spot at the luxurious Saks Fifth Avenue Waikiki featuring an exclusive product line, the "Honu" Sea Turtle Collection. "We are beyond honored and excited for our first entry into the Honolulu retail market featuring our delicious Made on Maui cookies that showcase Maui-made ingredients." – Mitzi Toro, The Maui Cookie Lady.
# # #
Mitzi, a school teacher, began baking delicious cookies in 2012 as a fundraiser to thank the nurses at Maui Memorial Hospital for taking such phenomenal care of her terminally-ill father. Mitzi was encouraged to transform her cookie fundraiser into a business by her regular customers and thus, the Maui Cookie Lady cookie company was born. Yes, the American Dream has unfolded for this teacher turned cookie-prenuer.   Additional information can be found at www.themauicookielady.com
The Hawaii Small Business Development Center Network is a program of the University of Hawaii at Hilo, funded in part through a Cooperative Agreement with the U.S. Small Business Administration.  Established in 1990, the Hawaii SBDC Network is the only statewide small business technical assistance provider. With 5 service centers on the 4 major islands it helps business ventures succeed & expand in Hawaii. The Maui SBDC is located in the Maui Research & Technolgy Center in Kihei providing no cost technical and business advice to drive the economic sustainability of Hawai'i by assisting businesses to form, grow and thrive. Additional information can be found at www.hisbdc.org