MAUI HANDS GALLERY AT 1169 MAKAWAO AVE. PRESENTS JEWELER STEPHANIE MABEN ON MONDAY NOVEMBER 13 FROM 11AM-2:30PM. COME BY OUR MAKAWAO GALLERY TO MEET THIS SPECTACULAR JEWELER.
About The Artist
Stephanie Maben's jewelry is wearable art made from her unique designs and one-of-a-kind pieces.
In creating her pieces, Stephanie pulls from ancient techniques such as keum boo and granulation to enhance her work in PMC, or precious metal clay. Precious metal clay pieces are formed one piece at a time and then fired in a kiln.  The resulting metal is 99.9% fine silver, 96.5% sterling silver, bronze or copper.   A single piece may require as many as 5 firings.  With an absolute passion for beautiful stones, many works  include exotic and unusual minerals, which she may pair with precious and semi-precious gemstones.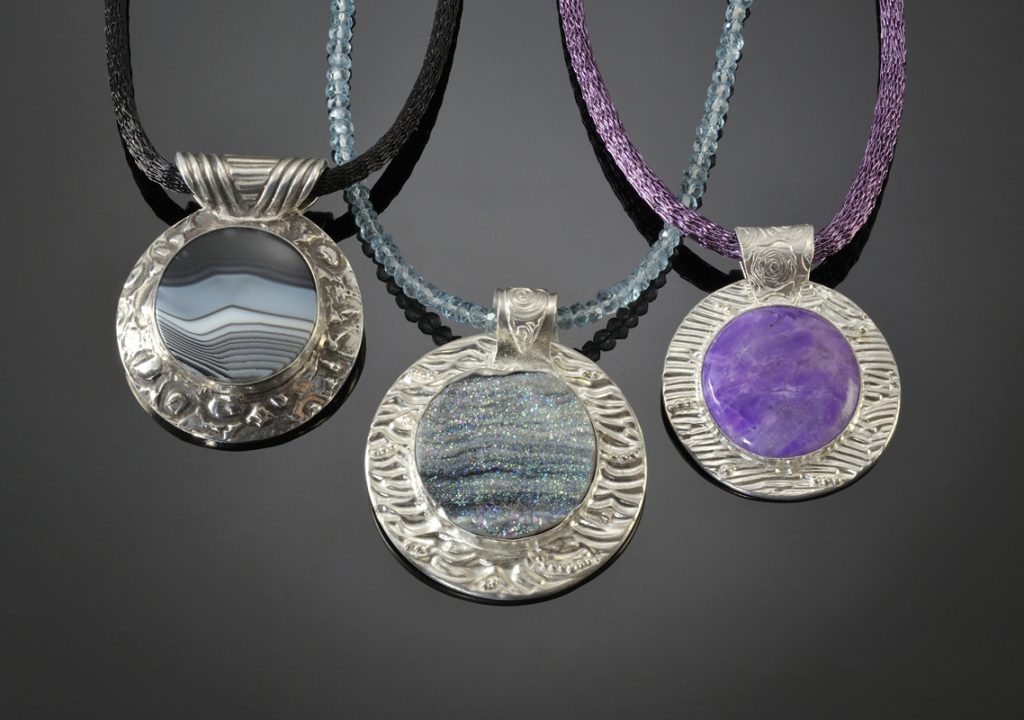 MAUI HANDS GALLERY AT 1169 MAKAWAO AVE. PRESENTS CERAMICIST,
LEE OLULANI PLEVNEY EVERY TUESDAY IN NOVEMBER FROM 11AM-3PM.
 About The Artist
My artistic practice engages the Hawaiian Islands—its landscape, sea life, animals and people—as I explore my heritage and deep connection to my ohana, my family, through clay. I seek to reflect the beauty and mystery of the ocean and sea life surrounding Maui and the open spirit of aloha permeating the culture.
I begin by throwing porcelain and white stoneware to create a vessel. I move to hand-building which informs the shape and story of the piece transforming it into its final form as a bowl, vase or platter. I develop my own glazes to capture the rich blues and greens of the island then fire two or three time to build depth and complexity. When complete, each piece "talks story" about the Hawaiian world I experience.
I call Maui my home but I started out in San Francisco where my mother, an indigenous Hawaiian, moved before I was born. She infused me, and my eight brothers and sisters, with her artistic style which I first expressed in my skill as a finish carpenter. My transition to ceramics began in 2007 when I immersed myself in studies under Richard McCoy, Jim Valentine, Jeff Vick, David Camden, Tom Coleman, Robert Briscoe and Steven Hill. I continue to learn everyday in my studio as I stretch the boundaries of what clay can do to capture the beauty of Maui.
Contact
Maui Hands galleries  –  Panna Speas Cappelli, owner
1169 Makawao Ave, Makawao, HI  96768
Phone: (808) 573-2021 (Business Office)
(808) 572-2008 (Gallery)