JACK HAMILTON WILL BE DEMONSTRATING HIS OIL PAINTING TECHNIQUE AT THE MAUI HANDS GALLERY IN MAKAWO DURING OUR 3RDFRIDAY TOWN PARTY.
COME MEET JACK, AND WATCH HIM WORK ON A NEW PAINTING, JANUARY 19TH, FROM 4PM – 8PM
About The Artist
Jack Hamilton has been a silversmith for over 40 years and a fine art oil painter for over 20 years. In 1992 he became one of the founding artists of Maui Hands. Astoundingly popular, he has since sold in the galleries over 700 paintings and over 2500 unique sterling silver jewelry pieces. He loves painting from nature and says he feels very fortunate to paint "en plein air" (in the open) on Maui. He lives with his wife Melani and kids, upcountry Maui, in Ulupalakua.
OIL ON ETCHED WOOD PAINTINGS BY CHRISTINE HALTON.
COME MEET CHRISTINE AND WATCH HER CREATE BEAUTIFUL NEW PIECES IN PERSON ON
THURDAYS JANUARY 18TH AND 25TH FROM 11-2 IN MAKAWAO.
About The Artist
Christine's eclectic and finely tuned style of expression began as a child and was nurtured throughout her life.  While raising her children, her talent was cultivated through her job as Visual Display Coordinator of a large company, while continuing to paint and show her own work.  When the artist moved to Maui to join the large art community here, she found inspiration everywhere. Her most recent pieces are very well received and reflect her love of the natural beauty of Maui.  They are a combination of the fine expression of line through wood burning and the depth of color with oils paints.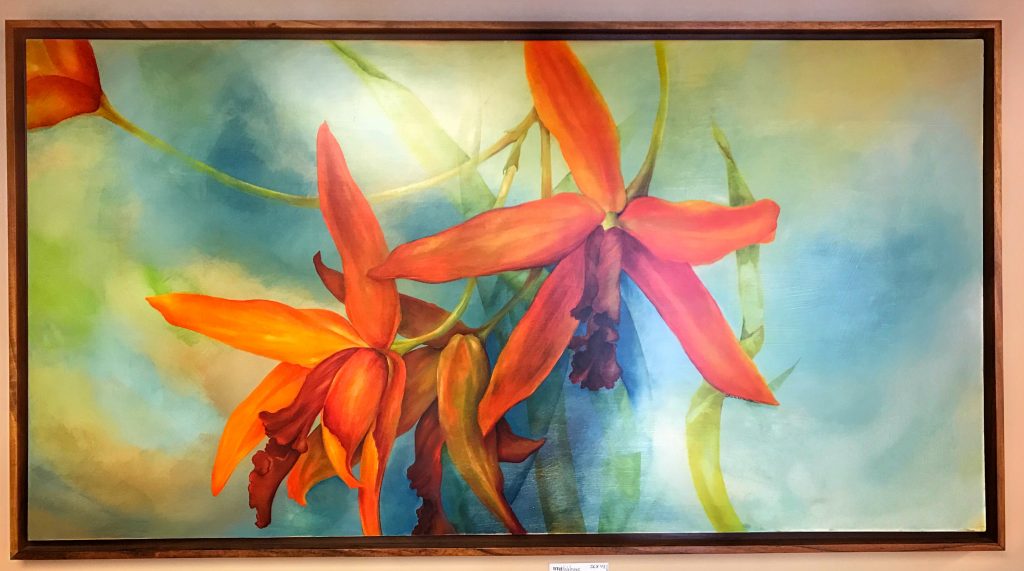 Contact
Maui Hands Galleries  –  Panna Speas Cappelli, owner
612 Front St; Lahaina, HI 96779
Phone:  (808) 573-2021 (Business Office)
               (808) 667-9898 (Lahaina Gallery)