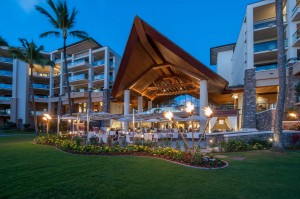 Montage Kapalua Bay's Cane & Canoe
Montage Kapalua Bay's signature restaurant, Cane & Canoe, is reminiscent of a traditional Hawaiian canoe house. In this historically rich locale, travelers and locals dine together and savor diversely influenced island cuisine with a heavy focus on the finest seafood and locally sourced ingredients.
Led by Executive Chef David Viviano, the menu is modern Hawaiian – reflecting the islands' multicultural legacy. With a breathtaking ocean view, seafood naturally plays a leading role, with the freshest catch and produce available, sourced locally, whenever possible. From the land, this signature restaurant boast an impressive steak program showcasing filet mignon, wagyu ribeye and lamb chops.
Named "Best Innovative Menu" on Maui, our culinary team serves modern dishes with inspiration from the island's multicultural heritage.  This signature restaurant's interior honors the local culture with a comfortable, communal atmosphere that is rich in wood scrollwork, woven textures and vibrant floral touches. This homage to the past is juxtaposed with elements of modern luxury that offers clean lines and sophisticated sofa banquettes.
At the modern plantation-style venue, Cane & Canoe bar offers casual fare as well as the full island-inspired restaurant menu. Open daily enjoy Happy Hour from 4:30 p.m. to 6:00 p.m. and food service until 10:30 p.m. With two large televisions featuring DirecTV and a pool table, there is no better place to spend a relaxing time with family and friends. Holiday hours may vary.
Sunday Brunch features and array of savory and sweet culinary delights. In addition to the delicious breakfast menu, each week will be enhanced with several new brunch selections including favorites such as Shrimp and Grits, Chicken and Waffles and Steak and Eggs. Indulge and "Build-your-own Bloody Mary Bar" with an assortment of liquor, mixers and all the trimmings to make a most decadent libation. Take in the beautiful landscape and ocean view while enjoying live island music from 9 a.m.  Complimentary parking.
For reservations, call (808) 662-6681.
Montage Kapalua Bay
One Bay Drive
Lahaina, HI 96761
Cane & Canoe
Open Daily   |   Breakfast is served from 7:00 a.m. to 11:00 a.m.
Sunday Brunch   |   10:00 a.m. to 12:00 p.m.
Dinner   |   5:00 p.m. to 9:00 p.m. (25% off for Kama`aina Monday and Thursday)
Nightly Live Entertainment   |   5:30 p.m. to 8:30 p.m.
Cane & Canoe Bar
Open Daily   |   4:30 p.m. to 10:30 p.m.
Nightly Happy Hour   |   4:30 p.m.  to 6:00 p.m.
Live Music on Saturday Nights
www.caneandcanoe.com
(808) 662-6681