Nalu's South Shore Grill in Kihei is home of the world's longest Ti Leaf Lei
and is the 2016 winner of 'Best New Restaurant' on Maui and 2017 "Best Breakfast".  
---
Nalu's is known world wide for their "Lei of Aloha" which are sent with their Aloha to people affected by violence. Las Vegas recently received a lei in memoriam of the terrible event that happened there.
The "Leis of Aloha" were created for the Paris shooting by one of Nalu's owners, Ron Panzo, wo has a 3o year restaurant leadership career in Hawaii with numerous humanitarian efforts, spearheaded this effort to send and share Aloha to those in pain.
The leis are also sent to celebrate great accomplishments. In celebration of the Hawaiian outrigger Hokulea's return from its three year world-wide voyage – "Malama Honua", the creator of the Mile Long Ti Leaf Leis deemed a lei to be created to celebrate it's successful voyage.
Lei of Aloha's Paris lei was one mile in length. This year with outer islands participating, a two mile long lei was created for Las Vegas, where so many transplanted Hawaiian families live. The leis are presented with meaningful Hawaiian Cultural ceremonies. Many local and national news outlets have been covering this heartfelt activity of Hawaiians sharing their aloha.
Ron's continuing leadership has been the essential element in the Lei of Aloha program.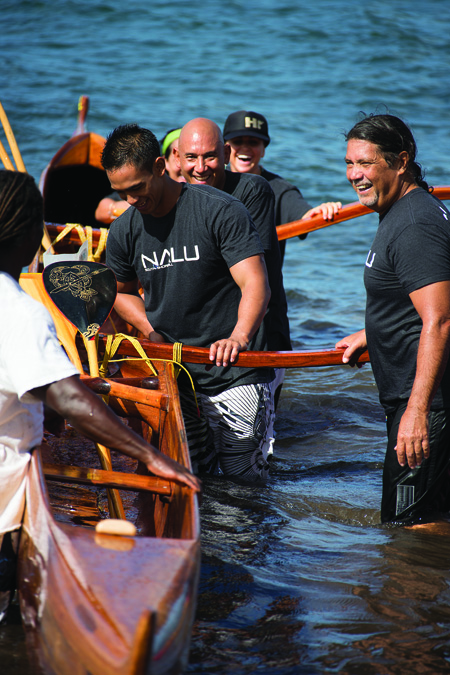 Nalu's features live contemporary Hawaiian music nightly with many big name entertainers such as Barry Flanagan of HAPA, Eric Gilliom and Amy Hanaiali'i. Hawaiian families are often seen dancing hula with the music.
Tasty food selections, history making activities and comfortable inviting atmosphere makes Nalu's a must Eat/Live Pono (Nalu's slogan), experience for visitors and a favorite for Hawaiians and residents young and old.
Check out Nalusmaui.com or Nalu's South Shore Grill on Facebook for current events.