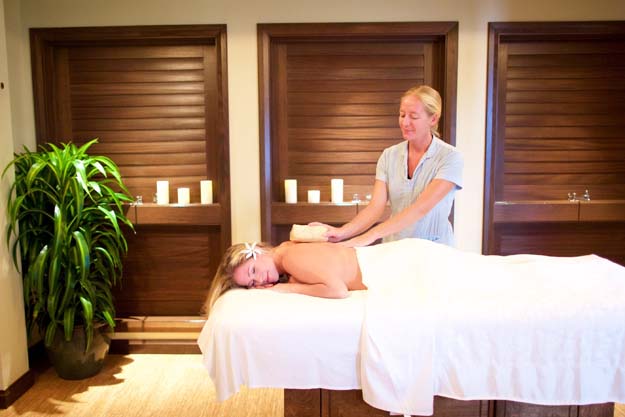 SPA HELANI, A HEAVENLY SPA BY WESTIN PRESENTS ITS FIRST YOGA AND BEVERAGE EVENT OF THE YEAR: SHAMROCKS & SAVASANA 
 MORE THAN SKIN DEEP: SPA HELANI, A HEAVENLY SPA BY WESTIN, INCORPORATES MAUI GROWN LOOFAHS INTO SIGNATURE TREATMENT
80-minute Heavenly Signature Massage to include complimentary dry brushing for a limited time
Kā'anapali, Hawai'i – In celebration of Earth Day and as part of its commitment to sustainability, Spa Helani, a Heavenly Spa by Westin at The Westin Kā'anapali Ocean Resort Villas has partnered with Simpli-Fresh Produce in Lāhainā, Hawai'i. Beginning Friday, April 22 through the end of September, each spa guest who books an 80-minute Heavenly Signature Massage will receive a detoxifying dry brushing, using Maui grown loofahs, as part of the treatment. The guest will also be educated on proper dry brushing technique and will receive a complimentary loofah so that he or she may continue to incorporate this beneficial practice into an at-home regimen.
"We have a strong commitment to both supporting local businesses and providing our guests with a relaxing spa experience that delivers a profound connection to our island home," said Shawn Hallum, the resort's new spa director. "The addition of dry brushing, with loofahs grown right here in Lāhainā, to our Heavenly Signature Massage helps us achieve both of these goals in an invigorating and meaningful way."
The 80-minute Heavenly Signature Massage begins with a full body dry brushing using natural loofahs harvested by farmer James (Kimo) Simpliciano of Simpli-Fresh Produce in Maui. Routine dry brushing gives the skin a healthy glow through exfoliation leaving it soft and smooth. It also stimulates collagen and improves circulation and lymphatic elimination. It can even help break down cellulite and prevent future cellulite from forming.  Dry brushing also prepares the skin for the Heavenly Signature Massage. The spa treatment uses hydrating Hualani products, which are also made locally by Ola Tropical Apothecary using pineapple and passion fruit grown in Hawai'i. Guests will relax as a heated compress invites tense back muscles to ease just before an uplifting, Swedish-style massage. This soothing treatment will leave each guest feeling deeply renewed and with soft, supple skin.
The 80-minute Heavenly Signature Massage with dry brushing is $225 and includes a take-home loofah with tips for further use. It is also available as a couples massage and is offered in one of Spa Helani's beautiful, 13 treatment rooms and at its outdoor ocean view cabanas. Additionally, the loofah and Hualani products are available for retail and can be shipped within the United States. For more information, call 808-662-2644.
 About Spa Helani, a Heavenly Spa by Westin
The Heavenly Spa by Westin™ at The Westin Kā'anapali Ocean Resort Villas opened its 10,000 square-foot plush facility on May 17, 2008. On September 13, 2009, the spa was renamed as Spa Helani, A Heavenly Spa by Westin. The full-service spa features 13 treatment rooms including three beautifully-designed couples massage suites, steam rooms, separate indoor relaxation lounges for men and women, as well as a shared relaxation lounge in an outdoor courtyard setting. The menu of services is overflowing with intuitive options including massages, body treatments, facials, manicures and pedicures. In addition to signature treatments that Heavenly Spa by Westin™ is known for worldwide, Spa Helani also features additional offerings, such as the Polynesian Ritual.