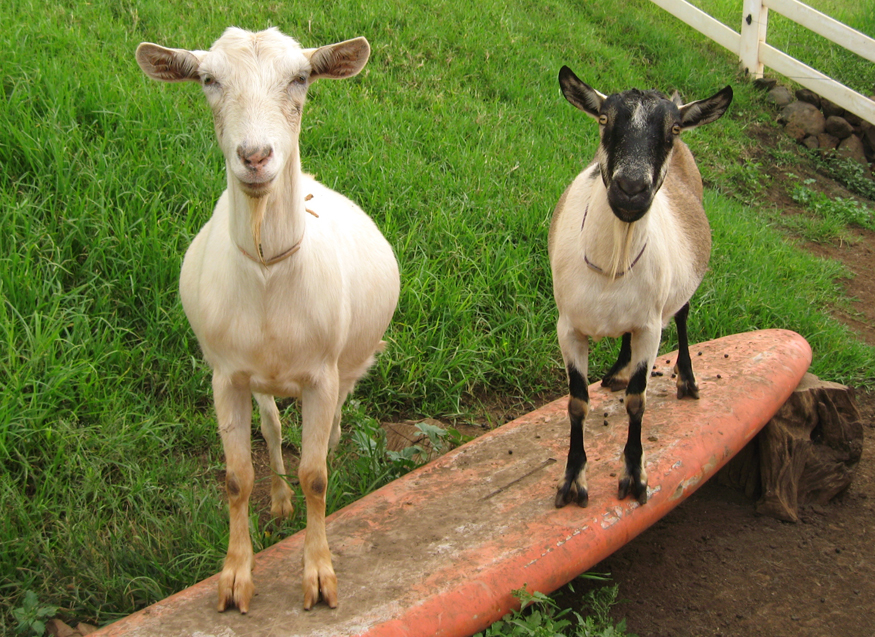 Perched on the slopes of Maui's Haleakala volcano, you come upon the lush green pastures of Surfing Goat Dairy, Hawaii's only award-winning caprine operation.
Owned and operated by German expatriates Thomas and Eva Kafsack, Surfing Goat Dairy represents one of only two goat dairies in the state. It is located on 42 acres with almost two-thirds dedicated as pasture, giving the Dairy's three bucks and over 100 does plenty of space to roam and forage. Found on the leeward side of the mountain, the Dairy is protected from Hawaii's perennial trade winds.
The Kafsacks decided 12 years ago to move to Hawaii and practice the art of gourmet cheese production, a far cry from their previous occupations of leading a software company or teaching high school German. they turned 42 acres of brush land into verdant pastures with a spacious 10-stall barn for boarding horses and a 100-square-foot dairy, built completely to grade-A standards. "The dairy with its three working rooms (Milk Room, Ripening Room, Cheese Room) together with the adjacent retail shop, works perfectly for us," Eva says.
Visiting the award winning Surfing Goat Dairy is a fun and unique Maui AgTourism experience for the whole family. Maui's only "State of the Art ", working goat dairy is a top AgTourism destination. Review Surfing Goat Dairy on TripAdvisor. The Cheese and Specialty Shop features the Dairy's over 30 different cheeses including 18 National Award Winners. These cheeses are always available for tasting and purchase along with light snacks & beverages.
Inexpensive "Casual Tours" of the operation are offered daily. ($8 for kids $12 adults) You don't need any reservations, just stop by.
"Evening Chores & Milking Tours" are Mon – Sat at 3:15pm ($14 for kids $17 for adults) Reservations Recommended
"Grand Dairy Tours", ($28/pp) Every Saturday at 9am (call for dates) A 2-hour experience. Feed and milk a goat, see the cheese making process. Then sample most of the cheeses produced at the Dairy.
Tours:
Mon-Sat 10am – 3:30pm
Sun 10am – 1pm