The Maui Cookie Lady, Mitzi Toro, originally started her company as a fund-riaser for her father, who passed away in 2012. Her cookies were only available once-a-month at a booth in Wailuku's "First Friday." The monies were donated to the nurses at the Maui Memorial Hospital ICU unit when her father passed. Becoming an instant hit, Mitzi has continued baking her famous cookies and has since been known as "The Maui Cookie Lady."
In a short 2 years her business has grown considerably, now being sold at Costco, Maui Brewing Company (Kihei Tech Park), The Waldorf Astoria Grand Wailea Resort & Spa, Ritz-Carlton Resort & Spa, The Market by Capische, Maui Pack N Ship, Maui Airport (airport outlet next to StingRay's Restaurant), Maui Ocean Center Turtle Treasure Gift Shop and is continually expanding her reach. She now does extensive shipping throughout the state of Hawaii, the mainland and even internationally.
MCL grew quickly due to its creative combinations and highest quality ingredients. They even proudly use unique locally-made products including Sammy Hagar's Maui-Distilled Macadamia Nut Rum, Paniolo Brown Sugar Whiskey, several favorite beers from Maui Brewing Company and they even add a little spice using Adoboloco's Kiawe Smoked Peppers (featured in their new "BBC" Cookie). Some popular flavors include the "Butter Rum Triple Chunker" (the original), "Vanilla Slurry" with Bavarian Cream & Raw Maui Sugar, "Pineapple Lychee Passion", "Da Half Baked" and "Nutella Raspberry Dark Chocolate Truffle" just to name a few.
Always looking for new flavors, Mitzi decided to create her first savory cookie. For this fete she sought out the assistance of award-winning Chef, Eric Faivre, one of the most well-known and accomplished chefs on Maui. He won the prestigious 'Aipono Award, among many other recognitions. He offered his culinary guidance helping MCL develop this new savory hit, which they dubbed the "BBC": Bacon, Cheddar & Chives, containing MBC Big Swell IPA and Adoboloco's Kiawe Smoked Peppers. Adoboloco is a locally-made brand of killer hot sauces owned and created by Tim Parsons which MCL is proud to use in her product.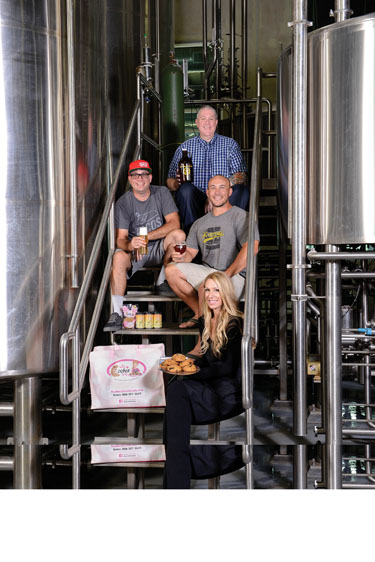 Chef Eric Faivre, Tim Parsons, Garrett Marrero and Mitzi Toro, "The Maui Cookie Lady"
The newest venue to carry MCL's famous cookies is Maui Brewing Co., created by Garrett Marrero. MBC is Hawaii's most authentic and largest craft brewery. Fiercely local, they are committed to producing their beer here on Maui, creating complex beer styles based on tradition. "Being part of the rebirth of craft beer in America, while providing Hawaii with the neighborhood pub, adds to our passion about what we do," says owner Garrett. "This is something we are proud of, and that pride creates a global craft beer kinship."  MCL is the first food item to be sold at MBC located at the Kihei Tech Park, exciting news for those who enjoy pairing Maui's favorite beer with a big, chewy, delectable cookie!  Purely delicious and dangerously addictive!
Like us on Facebook- The Maui Cookie Lady
Instagram- @MauiCookieLady
www.Adoboloco.com