RELISH OCEANSIDE AT 
THE WESTIN MAUI RESORT & SPA
"SUSTAINABLE SELECTIONS AND SPECTACULAR SUNSETS" 
Beachfront & Lounge Style Dining on Ka'anapali Beach…..
Ocean views, live island-style smooth jazz, al-fresco dining, fine wines and handcrafted cocktails!
Relish Oceanside restaurant bar exudes a blend of subtle sophistication where guests can enjoy a relaxing evening with fine wines and a tapas-style menu amidst panoramic beach views and sunsets. Featuring choicest bites made using island-fresh ingredients, the lounge menu includes a Charcuterie Board with imported cheeses and salami, guava paste, mushroom pate, house-crafted toasts and lavosh. The Pupu Slate introduces local flavors including Kimchee endamame, ahi poke, miso-cilantro hummus, taro pita, pickled garlic and pipikaula.
 At the restaurant's main dining area, guests can savor new offerings in the enhanced a-la carte dinner menu designed by restaurant chef Jennifer Evetushick. Garlic Prawns, Pork Belly Buns, Bone-In Ribeye and Togarashi Opah served with pohole fern salad, Maui onion, grape tomato and pickled garlic are a few of the delectable offerings.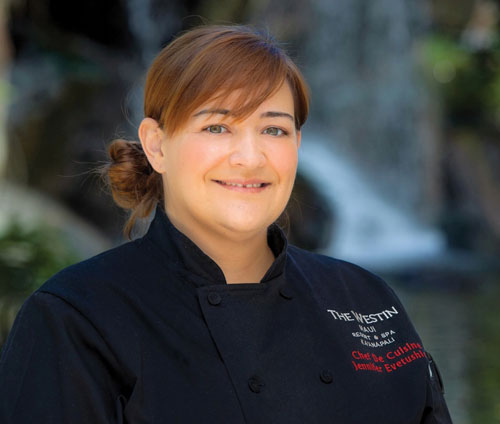 Chef Jenn
 Enjoy a front row view of Ka'anapali Beach as you dine amidst glowing tiki torches and swaying palms. Or take advantage of Happy Hour, where you can imbibe local draft beer, wine and signature cocktails such as Pineapple Caipirinha, Sriracha Margarita and the award-winning No Ka 'Oi Mai Tai.  
 If you are planning cozy get-togethers and intimate celebrations, Relish Oceanside's Reserve Wine List showcases excellent choices including Italian Reds such as Col d'Orcia, Brunello di Montalcino in Italy.