"3 Chefs. 3 Cuisines. 1 Great Restaurant."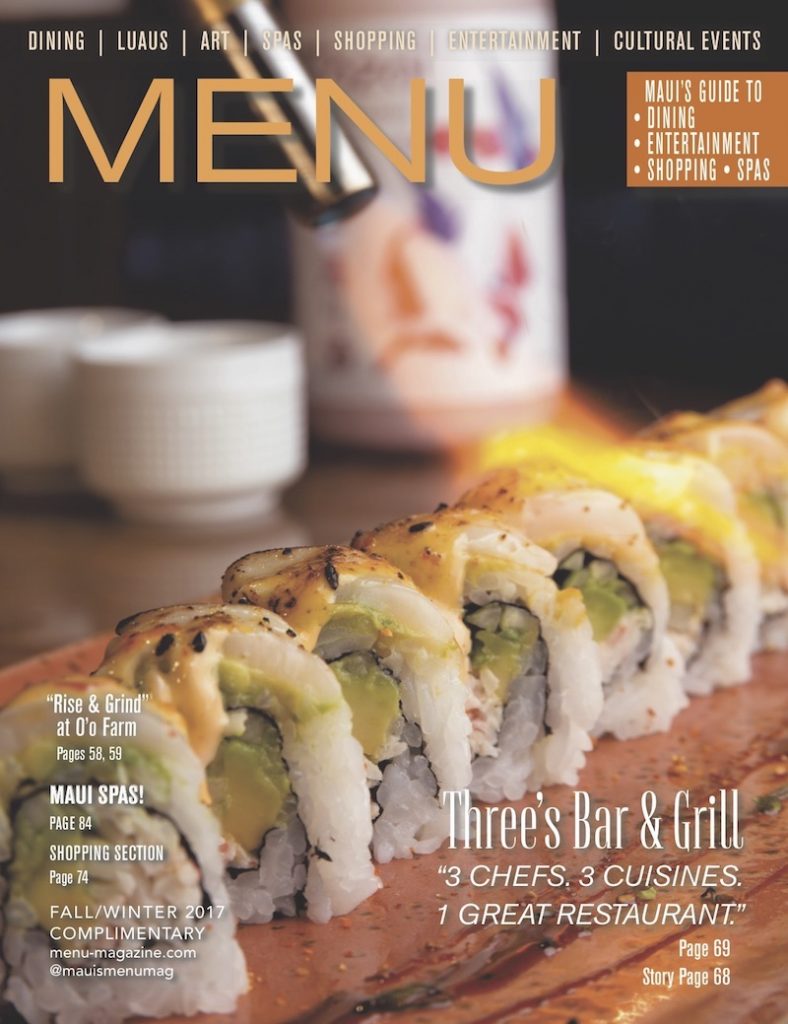 What do Kula strawberries, Kumamoto oysters and Kalua pig have in common? They're all on the menu at Three's Bar & Grill in Kihei!
"We're proud to have something for everyone at Three's," explains chef/co-owner Jaron Blosser. "We've got an epic breakfast that's offered late on weekends, lunch options that even include a raw bar, two award-winning happy hours, and a diverse dinner with plenty to choose from!"
Blosser and his two best friends, Travis Morrin and Cody Christopher, started Three's in Kihei's Kalama Village in 2010, along with an event catering company. Surfing brought them together as friends, and continues to unite them to this day.
They tout three different types of cuisine — Hawaiian, Southwestern and Pacific Rim — in three unique spaces; a roomy Surf Lounge with four television screens, intimate dining area and outdoor patio space, where live music plays from open till close.
"The vibe at Three's is fun!  That's what we're known for," says chef/co-owner Cody Christopher, who handcrafted the new wooden bar in their recently-expanded Surf Lounge. "We welcome families and groups, and just want people to come together, relax and enjoy some top-quality food at reasonable prices!"
Speaking of that top-quality food, chefs utilize as many local ingredients as possible, from produce to meat to fish. Three's has racked up honors such as Best Happy Hour and Best Pupus on 
Maui, and the restaurant captured national attention in July 2017 on Food Network's Diners, Drive-Ins & Dives.
"We were so excited to welcome Guy Fieri and the crew into our restaurant 'ohana," says Travis Morrin, who worked in the kitchen as host Fieri observed. "It was amazing to share some of Three's longtime favorites, like the Traditional Ramen, Beer Can Chicken and Bacon Wok-fried Brussel Sprouts, with a national audience!"
Three's is grateful for its dedicated team of employees, who helped in the rebuilding process after a kitchen fire almost destroyed the restaurant in October 2016. Three's Catering is also going strong, providing fresh food at an array of events, shows and weddings, along with meals on Pacific Whale Foundation boats. You may also notice Three's food truck serving up customers around Maui!  
The restaurant features some perks you don't find elsewhere, like breakfast served until 2 p.m. on weekends, freshly-shucked oysters and sushi available at 11:30 a.m. daily, and double happy hours every day of the week from 3 to 6 p.m., then again between 9 and 10 p.m. Three's even hosts comedy nights, live piano and jazz, along with salsa dancing on a weekly basis!  
"Whether you feel like enjoying some great music, tipping back a few drinks or savoring some great food, just know that quality is our priority," Blosser says, "and having a great experience with your loved ones is what really matters!"